We currently have 18 games consoles made by Sega in our collection. While it isn't a exhaustive list, it is a good approximation of what we have here at the Centre for Computing History. If you have something which you would like to donate to us, please head to our donation page for information.
Order By : Title - Release Date - Publisher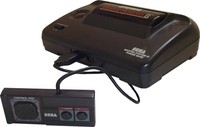 Sega Master System II
Description:
The Master System II, was a relaunch of the 1987 machine, and was a cost reduced version of that, it lacked the composite output, the cartridge slot, so no game cards or 3D glasses could be used, it had a slide opening cartridge slot, and came usually with Alex Kidd in Miracle world built in, though a much rarer Sonic the Hedgehog version was also released.